Did you know that you can run iOS apps on recent Macintosh computers?
If you have a recent Macintosh computer with "Apple Silicon" such as an M1 or M2 processor, you can run iOS apps that are designed for iPhones or iPads. Why would you want to do this? I use a couple of iOS apps on my Mac:
I have a Suunto sports watch. To set any of the advanced functionality you have to use the Suunto app. There is no desktop version or website that provides similar functionality. Of course, I have that app on my phone. But there are certain mapping-related features in the app that are sometimes easier or more convenient to do on a larger screen, so I appreciate being able to run the App on my MacBook Pro.

I find the Craigslist app to be a very quick and convenient way to monitor saved searches. So I have the Craigslist iOS app installed o my MacBook Pro, and searches I configure on my phone appear on my MacBook Pro, and vice-versa.
A couple of caveats:
These instructions are for macOS 13.2

Developers must "opt in" to make their iOS apps available on macOS computers, so not all iOS apps will appear in the App Store when viewed on a macOS computer. For example, none of Adobe's iOS apps, such as Adobe Fresco or Adobe Aero are available to run on the desktop.
Locating, installing, and running an iOS app is easy:
From the Apple menu, choose App Store

Search for an app using the search field

Choose "iPhone & iPad apps" at the top of the search results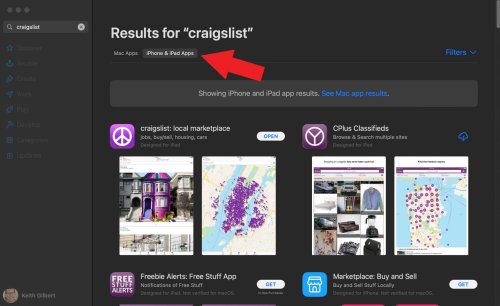 ---
---
You might also like